Shoulda, Coulda, Woulda and then it Finally Happened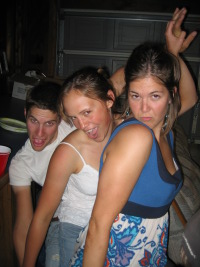 Wow, what an event; high energy, yet classy. It lasted late into the night, so much so that Shannon was muttering, "oh, the wife will be mad, so mad" the whole way home.
I had a good time with my wife, the one in the blue. Sara found a new friend recently and it's been a lot of, "Was it you I was telling that to? Oh, it was Clare." It was good to not be the third wheel for once.
Also, want to give big props to Phil and Mandy for their 5-0 foosball record against people who've never played before. Almost as great as winning the race ride.
I was lacking creativity during the paper plate awards last night, but came up with these later. Vote for your favorite one.
Warning
: Use of undefined constant REMOTE_ADDR - assumed 'REMOTE_ADDR' (this will throw an Error in a future version of PHP) in
/home/public/includes/poll.php
on line
39
Comments