I guess the Berries must like Cherries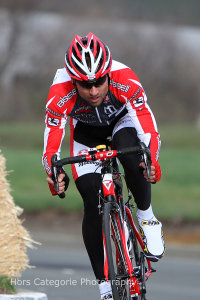 Raced Cherry Pie today.
Adam Switters
talked me into riding out there from Davis. I figured an extra 50 miles would make for a good workout and the wife would be happy to miss the 1:30 pre-race hangout. In reality, it turned out to be a suffer fest. Full on head wind and the rain got my bike all dirty.
At the race I met up with
Tim
and
Jono
only to see that I'd missed a memo or e-mail or something. Tim had
carbon wheels
and Jono had a brand new set of
Vredestein
race tires. I suddenly felt inadequate with my PowerTap and training tires.
As for the race, I was planning to shoot from the hip and get in a good workout. At the start line I was chillin' in the back talking to
Scott Zwizanski
. It took me about 3 or 4 laps to move up to the front at which point the winning break of 4, to become 2, riders was already off. Cal Giant and Z-Team were represented.
Spent the rest of the race attacking, trying to pull back the break and exploding. The chase never got going and the 10 Cal Giant guys weren't helping.
I mistimed the whole attack/explode thing for the finish and went from near the front to not as the bell was ringing. Alex Wick from
DBC
murmered something about me owing him a leadout. As we were like 40th wheel and the race was strung out single file I decided to pass. Where I ended up finishing is not important.
Jesse Moore
won from the break. Originally he was supposed to ride out with us but had some excuse about not finding a ride back. I guess it was all part of the plan.
Update:
Added a picture by Mark Adkison of
Hors Category Photography
.
Comments