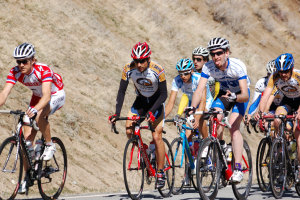 Sorry for the lack of posts, I've been busy riding and actually doing work, seriously. But last weekend I headed out for a collegiate race in
Reno
, here is the report.
Because of its location, few people show up to this one. This year was no exception with 18 people in the Men's A, 5 from Davis. The course is two out and backs with a climb in the middle for 80 miles.
This is now it went down. Phil and Will attacked almost immediately and that was it. Will won and Phil got second. Back in the group a chase formed but with so few guys in the field nothing was going to happen.
The first time over the climb I set a hard temp and a break formed. This effort put me deep in a high altitude ice cave of pain. I was so blown that I found myself yelling at my break mates to take it easy and to stop surging. I normally can't stand those people.
Somehow the two other guys in break got dropped in the feed zone so it was just me and Evan Pickett from Stanford chasing Phil and Will for the last 40 miles. We rode hard but couldn't make up their 4 minute gap. I ended up third.
The crit on Sunday had an even lower turnout with 16 guys and again 5 Davis. The course had a couple rough corners and was very windy. I stayed in the car till about 5 minutes before the start to stay warm. The first 10 minutes went hard and I was in pain. At some point Phil and I broke away. We managed to lap the field about 15 minutes later.
When we got back on the field, I recovered for a little bit, then got bored and attacked again. They pretty much let me go and I had Brian Percival from Stanford on my wheel. We were working together well, but I was doing most of the work. I let him pull a little more and then attacked him. I felt bad but how was I supposed to drop him if I was killing myself into the head wind?
Anyway, proceeded to lap the field for a second time. When I got back around Phil was pissed and claimed that Brian was still 45 seconds off the front. I looked up and saw him about 15 seconds up. I did my duty and brought him back.
That was it for me. There were about 5 laps left at this point. I thought of doing something to help Nils and Will but was hurting as the pace picked up.
With a half lap to go I sat up and just rolled in. I'm not really sure how everyone finished but I think we had 4 in the top 10.
And that is what I call high rollin' Reno style.
Comments