My First Race in Oregon Was Pretty Flash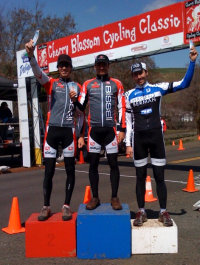 This weekend a few of us
Bissell
boys, me, Omer, Morgan and Jeremy, headed up to
The Dalles
for the
Cherry Blossom Classic
. We were a little worried about the weather up in Northern Oregon, but it turned out pretty good, clear and windy. The first stage today was a road race, 4 loops for 75 miles, up and over a hill. Saturday has a TT in the morning and Crit in the evening. There is another road race on Sunday.
Even before the start
Morgan
had some drama. He caught a stick on the way to the start line and tore the derailleur hanger right off his
Pinarello Prince
. It was pretty sad but he was a good sport and ended up as our only guy in the feedzone.
I was expecting the race to roll out pretty mellow but the local teams were out in force and a break went away early. Jeremy made it into a chase group and Omer set me up for a bridge attempt on the climb. The two front groups came together over the top so we had 2 Bissell out of about 15.
We rolled well for the rest of the lap. The second time up the climb Jeremy and I worked the front and the group dwindled down to 7 guys. At this point we decided that I should try to get up the road since Jeremy is the only one with a TT bike and I could use the extra time.
Thus, I attacked the third time up the climb and my
Easton EC90 Aero wheels
rolled so well I stayed away for the whole last lap. It was a little early but plan B was for Jeremy to sit on and sprint so I think we had it pretty good. That is just what he did and finished second.
Official results haven't been posted yet but I think I'm a couple minutes up on Jeremy and maybe another minute up on third place. Later I stole Jeremy's latte just to rub it in.
Comments