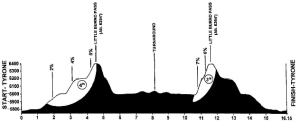 Today the
Tour of the Gila
featured a 16 mile hilly TT. After the results from the first day I was a little worried that
Chris Horner
would start behind me. But GC changed a bit after yesterday's stage and I was safe.
Had another one of those "Burke" moments at the course. I saw Chris Baldwin while rolling around and he gave me that "I think you're Burke" look. Then he wished me luck. Ah, good times.
Anyway,
Tom
,
Ben
, Jeremy and
Burke
were all rockin' 58 tooth front chain rings and I can see why they'd need it. I was spun out on the final decent. On the way back I caught my 30 second man at the top of the hill but then he repassed me on the way down. I felt pretty good during the ride overall. I don't know where I placed.
We do know that Tom was second to
Levi
and ahead of
Lance
. That's some pretty good riding. They've been pretty good about posting results on the
Tour of the Gila website
so they should be up soon.
Comments