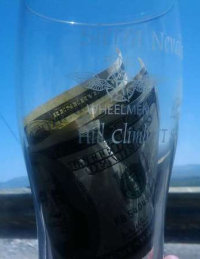 On weekends without races I typically head out to the local Saturday group ride. While I've done the ride a hundred times, last Saturday was special, I came ever so close to cracking Doug. 4 years of attacking and trying to ride him off my wheel and I finally got a, "That's it for me, thanks for the workout."
Unfortunately my excitement was a little short lived because as he crested Cantalow he said something like, "I decided to back down. I wanted to save something for the flats on the way back." Oh well, maybe next time.
After the ride the wife and I headed up to Tahoe for the rest of the weekend. It was good to get away with the wife after many weekends without her.
On Sunday we headed over the hill for the Kingsbury Hill Climb. It was a super low key event with only about 30 people total. This particular hill went from about 4800ft to 7300ft. I felt great till I saw the 6000ft sign, at 7000ft I was about to pass out and at the finish I was ready to tip over.
I set the men's record at 32:59 and fellow Davis resident Kelly McDonald set the women's record. Mike Buckley was there too. But my image of this former Race Ride regular was tarnished when he couldn't get the average power off his SRM and started pressing random buttons.
Team Bissell
actually claimed two wins on Sunday, Kirk O'Bee won the
Kelly Cup
in Baltimore. His win was a little more prestigious and he got a
pretty sweet trophy
.
Comments