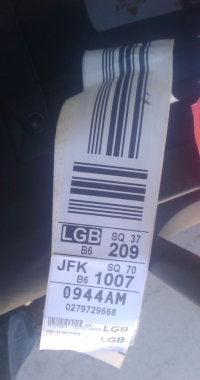 I don't want to talk much about the last stage of
Fitchburg
last Sunday. Basically I rode hard and it didn't work out that well for the team. You can read all about it at
Velonews
and
Cyclingnews
if you're interested.
The flight home was actually the dramatic part of the trip. The setup was Boston to JFK, JFK to Long Beach and Long Beach to Sacramento, a full day of flying.
In Boston they told me I needed to recheck my bags in Long Beach. Something about their system only being able to handle trips with three flights. See, there are is only space for two flights on the tag. Yep, that's what they told me.
I wasn't too worried about it, but things went pear shaped when my bike didn't show up to Long Beach. So I had a lost bag and the trip wasn't over yet. The big question was, how do you fill out the report when you're not at your final destination yet?
Answer: with a lot of explain and reexplaining. After a bunch of that I got my bike back only a day late.
So that was the trip and I spent the last couple days recovering from it, both the riding and the flying. I know, I'm delicate.
Comments