In their case or on your face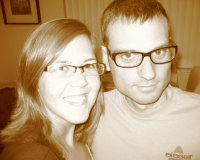 Had a few life changing experiences this week. The big one was that I got my first pair of glasses. I've known that my left eye sucks for a few years now and I finally got it checked out. Turns out I have an Astigmatism.
For better or worse the computer screen is a lot clearer, allowing for longer hours of work. That's a small price to pay because now my wife is even more beautiful and my
Pinarello
is even more awesome.
As my more observant fans may have noticed, I also got a hair cut. Basically, when I came home from school my head started to get really hot. So I drank some cold water, but it didn't do nothing. So I laid in the bathtub for a while, but then I realized that it was my hair that was making my head hot. So I went into my kitchen and I shaved it all off.
Anyway, big things are coming to the blog in the next few days. So check back for info on the first ever PaulMach.Contest.
Comments