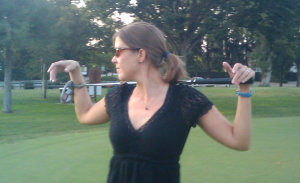 The annual Bud Johnson Family Golf Tournament is a big deal to Sara's relatives. Due to geographic constraints we're supposed to send in our scores this year. Then they're combined in some random way to determine a winning team.
That's the setup, unfortunately neither Sara nor I play golf. But we do hit some balls once a year, for this tournament.
Last night we set out to get our nine holes in. We rented clubs and a cart, bought some balls and tees, and were on our way.
I got done with my ride a little late so we weren't able to warm up at the range before our tee time. Thus, my first swing since last year was teeing off on hole one.
It didn't go so bad. I decided to finesse the ball a little more this time around and it paid off.
However, things went pear shaped on 7. There was a nasty water hazard and since Sara had already lost a few balls we were running short. The pressure was on.
Well, we choked and had to share a ball for the rest of the hole. Then came the embarrassing drive back to the club house to buy more. At least it was scenic.
The tournament rules limit every hole to a maximum of nine stokes. This shortened the game a bit as we both evoked this rule several times with a "Whatever, I'll just take a nine."
Last year I had 7 nines, and Sara had 5. This year it was reversed and I beat her by 8 strokes.
That's good because this tournament is in its 11th year and a win is a big deal, there is a trophy and everything. Sara has been on the winning team twice but I've been skunked the last 4 years. I think this could be my time to shine.
Comments