Wednesday, January 20, 2010 -
General
I'm not trying to turn this site into a
brog
or anything, but check this out. I made it on
Velocenter
, a weekly video recap on all things pro cycling by
Velonews
.
It covers the biggest races and interviews the best riders. So you can imagine my excitement to be a part of it.
My cameo appears in the
Astana, Levi's Gran Fondo Episode
about 2:16 in. Check it out and you'll see this (arrow added):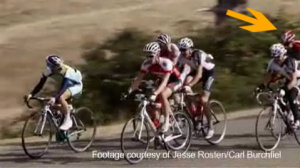 Notice the Paul Mach form only slightly obscured by
Mike Sayers
.
Comments