It was straight up Chuck Norris
The last few days at camp have been pretty standard. Yesterday we scouted the second half of
Stage 2
in this years Tour of California and Thursday was picture day. It was long, but lead to this beautiful picture of
Ben
and
Frank
in their
Merrell
casual wear.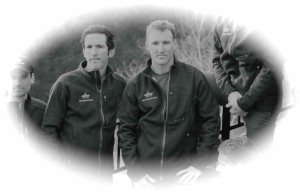 Today, however, was the big show, the
Chileno Valley Grasshopper
.
Last year
was fun, but this year was straight up
Chuck Norris
, tough as balls.
It's an 80 mile course with about 8000 feet of climbing. It starts in Occidental and heads right up Coleman Valley, down Highway 1, left on Marshall road and then loops back to finish up Joy road.
The winning break went at like mile 5 and was made up of me,
Jared
,
Andrew
,
Wohlberg
, Ben and
Rob
. Wohlberg was reliving the glory days and putting everyone in the cave but I still managed to pump him for the Bodega Bay and Marin County sprints.
We chopped off for the next 3 hours till we hit Joy. Some crazy stuff happened but we all just kind of rode into the bottom together. I got 3rd and Ben was 2nd and Andrew won.
So, one more day of camp, if it rains I can take the day easy, and to be totally honest, that's what I'm hoping for.
Comments