Merco gets the Bissell deep clean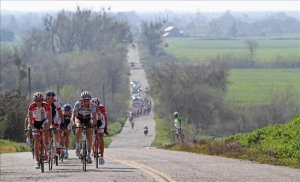 It was another one of those flat, straight, 120 mile days at the
Merco Foothills Road Race
. You know, long, fast and did I say flat?
It was also the first team road race of the season which made it the first
without radios
. So what's the verdict? Well, it was different and I kind of liked it. But I'll reserve final judgement 'till we do some bigger events.
As for the race, the attacks started right off the gun. A number of small groups got off the first lap but they all came back. The winning break of 13 went with about 3.5 laps (80 miles) to go. All the major teams were represented so we quickly got a gap that hovered around 2 minutes for the rest of the race. Me and
Ben
were there for
Bissell
.
About 70 miles later the group started
angsting
for some action. The attacks started but we made it through the rollers intact. I tried a few moves in the last few kilometers but nothing worked. However, I like to think that those, plus my super leadout, softened the field so Ben could take the win. I finished 8th.
The picture above is by
Wil Matthews
. The one below is also his and features both of the princesses in my life, Sara and the Pinarello. It was taken at the
Marin County Triathlon
and is currently number 9 in this
gallery
.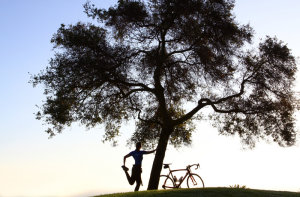 Comments