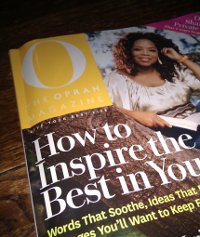 What to do, what to do? Well, just getting ready for the racing and weather tomorrow.
Desperate for an edge, I even flipped through this magazine. I can tell you now, it was of no help.
We went for a little ride around South Lake Tahoe. The motorists were all very supportive. One even yelled, "Good luck Sunday." Naturally
Rob
heard, "You look so gay."
I also stopped by the Pearl Izumi Outlet store to say high to super fans Lauren and Allison.
Roman Kilun
stopped by later and was impressed by how they repeatedly turned the conversation back to me. Thank you.
Anyway, the weather is the talk of the town. So much so that I don't know what to believe anymore. Some people are talking like you'll be lucky to make it to the finish line alive. I hope it doesn't go that far.
Comments