January 2010
Wednesday, January 20, 2010 -
General
I'm not trying to turn this site into a
brog
or anything, but check this out. I made it on
Velocenter
, a weekly video recap on all things pro cycling by
Velonews
.
It covers the biggest races and interviews the best riders. So you can imagine my excitement to be a part of it.
My cameo appears in the
Astana, Levi's Gran Fondo Episode
about 2:16 in. Check it out and you'll see this (arrow added):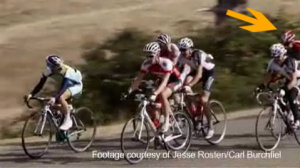 Notice the Paul Mach form only slightly obscured by
Mike Sayers
.
The new year always gets me thinking about what I've done and what I haven't. It gets even crazier at the start of a new decade.
This year marks 10 years since I graduated from high school and thus 10 years of higher education. So yes, society has spent thousands to improve my brain and the result is, well, this blog and some mediocre race results. But don't worry, I always wear my helmet to protect your investment.
A new year also means a new year's resolution. Mine, of course, is blog related. What I want to do is better engage the popular culture so I can relate more closely to those of you who read the blog.
I plan to start by listening closely to the words of popular rap songs as well as include a word from
The Urban Dictionary
in every post (It's
2KX
for this one).
I know it will be a tough challenge and a long year, but it wouldn't be worth doing if it wasn't.
January 2010